:::
<!#--所有資料+cate tab --> <!#--detail-->
Energysquare on why choosing Taiwan at the InnoΛEX France Webinar
Online Date: 2020/09/30
Modify Date: 2020/09/30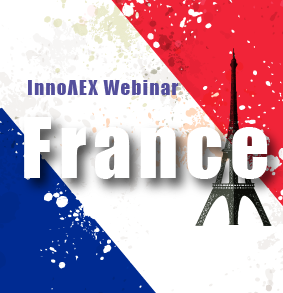 The France Pavilion at InnoΛEX organized a webinar to explain technology strengths and trends in France and share successful experiences of how they grow their business in Taiwan and all the other ICT dominant countries.
Education and Robust Ecosystem Drive R&D Capability
"I think in France we are lucky to have very good schools and R&D centers." Mr. Matthieu CHARRIERE, the Start-up Program Manager at Business France Paris, explained why French companies are competitive in R&D. "We have access to a lot of resources that make you able to work in deep tech or specific subjects about technology and innovations."
Mr. Maxime SABAHEC, the IoT Project Manager of Business France Paris, also explicated the characteristics and the strengths of the French companies in IoT, Smart Home and Robotics sectors. "A lot of big companies, banks, insurance, maybe telecom companies are helping new startups," added Mr. SABAHEC, "the French ecosystem is not new, it's quite big, very active."
Corporates, or more strictly to say, Corporate Venture Capital (CVC) has been regarded as vital partners to startups. Working together allows both startups and corporates to develop themselves positively. TAITRA, the organizer of COMPUTEX and InnoVEX, will join the Bpifrance Innovation Generation (B.I.G.) event and introduce the possible collaboration opportunities for startups with Bpifrance, as well as sharing InnoVEX's achievements in the past four editions. Energysquare, one of the France webinar speakers at InnoΛEX, happens to be an inspiring successful case in InnoVEX.
Energysquare on Why Choosing Taiwan
Energysquare, founded in 2015, develops a new standard of wireless charging for electronic devices. The Power by Contact® charging solution, consists of a transmitter and a receiver and works through the contact between the receiver's electrodes and the transmitter's tiles, detecting and activateing the appropriate power.
Energysquare set up its first-ever international office in Taiwan right after participating last year's InnoVEX. "I think it's mainly because our clients today are in the laptop market, and all the main laptop ODMs, so the companies that are actually manufacturing the laptops are Taiwan-based companies, more than 90% of them." Mr. Timothée LE QUESNE explained publicly for the first time why they chose Taiwan as the hub to grow their business.
Indeed, according to the Ministry of Economic Affairs, Taiwan's computer manufacturing sector reached a total output of US$6.4 billion in 2019, growing 72.1 percent year on year to the highest level since 2004. Servers performed best (Read more: Data Centers Boost the Demand for Servers) with a record high output and portable computers such as laptops and tablets came in second at US$17.9 million, accounting for 28.3 percent of total output.
InnoVEX Will Return in 2021
Echoing the confident vibes in ICT markets in the post-pandemic era, the InnoΛEX France Webinar also concluded with optimistic tones. When being asked to describe French technology and innovation with one word, "HOPE," Mr. Matthieu replied, "they want to do something about not only the crisis but also bring the innovation to another level."
Business France has led startup delegations exhibiting in InnoVEX for four consecutive years, and will return to the event next year. InnoVEX will move to Taipei Nangang Exhibition Center, Hall 2 (TaiNEX 2) from June 2 to 4 in 2021 in Taipei, Taiwan.