:::
<!#--所有資料+cate tab --> <!#--detail-->
InnoVEX Will Return as AI-Driven OMO Exhibition in 2021
Online Date: 2020/10/19
Modify Date: 2020/10/19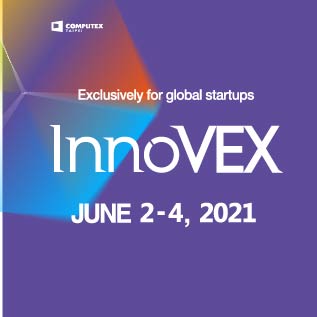 InnoVEX 2021 will not only return to the showgrounds, but also plan to go way beyond. Displays, activities and events will be held at the Taipei Nangang Exhibition Center, Hall 2 (TaiNEX 2) from June 2 to 4 (COMPUTEX will start from June 1 to 4), 2021. In addition to the physical shows, COMPUTEX and InnoVEX plan to offer an Artificial Intelligence (AI) experience tradeshow in an Online-Merge-Offline (OMO) form.
InnoVEX, the exclusive exhibit for startup at COMPUTEX, thrived together with the global startup community. COMPUTEX and InnoVEX now ride the wave of digital transformation neck-and-neck with all the other tech pioneers. TAITRA, as one of the organizers of COMPUTEX and InnoVEX, is designing a new OMO program both to empower exhibitors to achieve accurate marketing goals and to assist buyers, investors and the media to engage with the right strategic partners through an AI-Driven experience.
In 2021, COMPUTEX and InnoVEX will provide:
Groundbreaking Insights:
Onsite conferences, virtual seminars and hybrid events organized by COMPUTEX, InnoVEX and tech leaders from all over the world will help creative minds to put their fingers on the future pulse.
Hyper-Personalized Product Recommendation:
Through AI algorithms, COMPUTEX will deliver the effective and tailored recommendations to buyers and help exhibitors generate meaningful leads.
Accurate Matchmaking and Marketing Predictions:
COMPUTEX will accurately pinpoint participant goals to increase matchmaking and marketing engagements and will also guide participants through personalized Online-Merge-Offline interactions.
The technology ecosystem built by COMPUTEX touch the lives of everyone and everywhere in the future. COMPUTEX 2021 will continue to lead the world's trends and help startups with an AI-driven exhibition experience. The exhibitor registration for COMPUTEX and InnoVEX will open on October 29, 2020. More details of how visitors can participate in this groundbreaking OMO event will be announced in early 2021. Please visit COMPUTEX and InnoVEX website for information updates.