:::
France Pavilion
Online Date: 2020/08/24
Modify Date: 2020/09/30

France Pavilion

Bonjour and welcome to InnoΛEX's France Pavilion!
Since the creation of InnoVEX within COMPUTEX TAIPEI in 2016, France has participated in this one-of-a-kind startup event every year to showcase French startups and their innovations. The France Pavilion organized by Business France has become one of the must-sees of the show, presenting award-winning French startups and connecting them with Taiwanese partners as well as the local tech ecosystem. These startups cover multiples sectors such as IoT/electronics, software applications, VR/AR, healthtech, artificial intelligence, gaming etc, which also represent the principal domains in which collaboration opportunities with Taiwanese companies abound. Furthermore, as a startup nation, France provides an entrepreneur-friendly environment to facilitate the creation and development of startups. France has launched a National AI Plan in the beginning of 2019, and French institutional investors have committed to invest 5 billion EUR in the next three years to support innovation and startup development.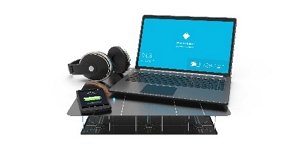 A great illustration of a French startup collaborating with Taiwanese companies and the local tech ecosystem is Energysquare. Founded in 2015, the startup proposes an innovative wireless charging technology that allows the charging of several devices simultaneously, at the same speed as a conventional charger at high power and without energy loss. Energysquare opened its first overseas office in Taiwan in 2020 to collaborate more closely and create technology partnerships with Taiwanese OEM and ODM companies. Energysquare was an exhibitor at the French Pavilion @ InnoVEX in 2019, where they attracted plenty of curious visitors and garnered significant media exposure.
While keenly looking forward to the return of the show in 2021, we invite you to enjoy the webinar videos and take a look at our top-notch 2019 exhibiting startups. And of course, see you at the France Pavilion @ InnoVEX next year!

Participating Startups 2019


Business France
Business France is responsible for fostering export growth by French businesses through a variety of customized services. It also promotes France's companies, business image and nationwide attractiveness as an investment location.
The Tech & Services department of Business France Taiwan supports French startups and SMEs to explore the Taiwanese market and to develop strategic partnerships in related sectors.
---